In India, many big Bollywood stars as well as politicians have started celebrating Pride Month for the LGBTQ society. In which now Richa Chadha has also joined.
Richa Chadha
The month of June is very special for LGBTQ society. This entire month is celebrated as Pride Month all over the world. This month was started in memory of the aftermath of the Stonewall riots. This movement proved to be a milestone among LGBTQIA + society. After which this month has been completely dedicated to the gay community. Where many Bollywood stars are also celebrating this month with great joy. Yes, at the forefront of this episode is actress Richa Chadha, who has been promoting personal stories of hope and selflessness in these difficult times – through her social media The Kindery.
For the month of Pride, Richa is doing many things through her social initiatives. The page featured stories from young Kolkata-based psychiatrist Kushal Roy, who runs a free mental health and bereavement counseling helpline. Another feature celebrates a group of youth in Kashmir – Uzair, Junaid and Khushi Mir – who are helping feed the trans community in Kashmir. The third story traces the journey of Dr. Aksa Shaikh, the first trans-woman to head a vaccination center in India, who is an inspiration to thousands as a medical professional, a philanthropist and an artist. The Kindery Insta handle will regularly have live sessions this month with these everyday heroes who inspire many as just themselves, even budding musicians to sing to the community through these dialogues. will dedicate.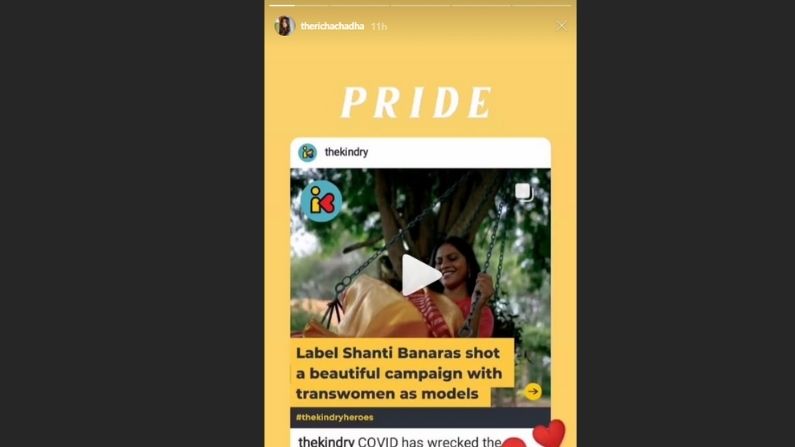 Richa tells us, "This year, LGBTQ+ pride month in India has gone virtual due to the global pandemic. At The Kindery, we are delighted to celebrate the same by covering the stories of community heroes who are helping each other in this time of pandemic. His stories are not only heart touching but also full of love and sympathy. Last week, a student from a queer college in Delhi shared his coming out story. There were many messages from my co-founder Krishna Jagota and my followers, they saw us talking about how they too were feeling brave to come out in the open after watching our live session. Kindness is the need of the hour and we all need love and hope during this time as one still struggles to deal with the loss due to the pandemic. With the help of the cast, we hope to bring some virtual excitement to the lives of our everyday heroes as well."
Also read :- Brawl: KRK's anger broke after listening to Mika Singh's song, deleted by writing threatening tweet, read here
Also read :- Net Worth: South superstar Allu Arjun has crores of assets, know which car the actor is fond of